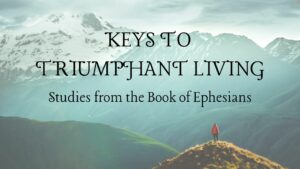 Join group leader, Robin Portman, for this new co-ed life group happening during the season of Lent. Keys to Triumphant Living is a 7-week study on the book of Ephesians. In an uncertain world where things do not "add up" or make sense, we can look forward to a time when everything will be brought into meaningful relationship under the headship of Christ. Grasping the ultimate truth about our relationship with God and how to live life in the real world as God's people, we can stand triumphant in any situation. No homework required. Just come as you are and we'll learn together!
Time: Wednesdays, 7:00-8:30 PM
Dates: 3/8-4/26, with no meeting on 4/5 for spring break
Location: Vienna Presbyterian Church
Group Leader: Robin Portman
How to Join: Sign up using the form below and the group leader, Robin, will send you a welcome message with more information.