Monday Night Men's Group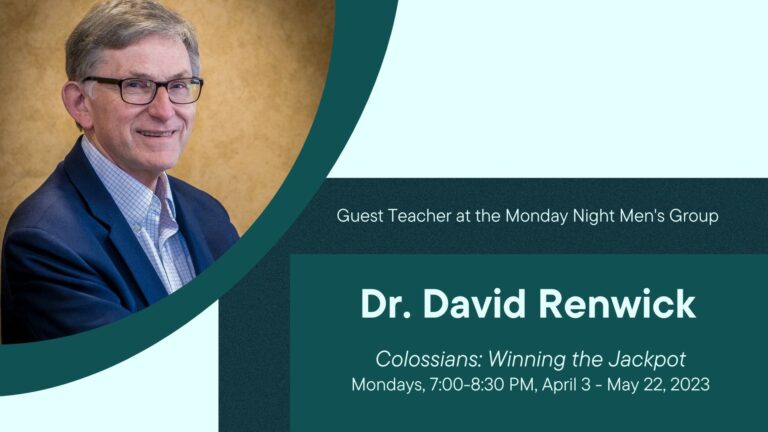 Biblical, real, straight-talking, where guys of all ages learn, grow and laugh together. When attending the men's group, expect to be warmly welcomed and introduced to a passion for homemade popcorn like you've never seen! After an initial time of hanging out and eating, everyone meets together in a large group for a lesson, then breaks into smaller groups – life groups – for discussion and prayer. In your life group, you will learn to live your faith as you share about and care for each other's life experiences.
Colossians: Winning the Jackpot with Guest Teacher, Dr. David Renwick
In his letter to the church in the city of Colossae (in modern day Turkey), the Apostle Paul describes the path of life God calls us to pursue once our lives have become intimately connected to the most important person who ever lived. To Paul, Jesus of Nazareth is this unique person. Like winning the lottery, excitement, privilege, and a whole new set of responsibilities become ours when we realize that Jesus is passionately interested in knowing us and giving the full wealth of his life to each of us as individuals and as a community. Did you know that you've been given a prize that's worth more than the Powerball? Are you in danger of squandering what is rightfully yours? Join the Monday Night Men's group as we explore the greatest gift we could ever receive.
Meeting Time: 7:00-8:30 PM on Mondays
Dates: The group meets weekly from September through June 12th, and the Colossians series will run from 4/3-5/22
Location: Fellowship Hall and simultaneously online at https://zoom.us/j/85128923452
Group Coordinators: Ted Davies & David Steiner
Meet the Teacher: David Alistair Renwick was born in Johore, Malaysia, known then as Malaya, in 1952 to Scottish parents, Charles Campbell Renwick and Mary Isobel Graham Maclean Ren-wick. David is a seasoned preacher and teacher, with a pastoral tenure of over 45 years serving Presbyterian churches in a variety of interesting communities across the U.S. and in Canada. He was most recently the senior pastor of National Presbyterian Church in Washington, D.C., and retired in 2022. David received his M.Div. from Gordon Conwell Seminary in 1977, followed by a Ph.D. in Biblical Studies from Union Seminary in 1988. His dissertation, "Paul the Temple and the Presence of God" was published in 1991 in the Brown University Series in Judaic Studies (and is number 2,155,453 in the Amazon best seller list!!!) David is married to Currie, whom he met at St. Andrews University in Scotland in 1972. They live in metro D.C. with their two cats, Angus and Lovie, and have three adult children – Lalla, Charles, and Mairi.
How to Join: If you are new to the group, you can show up any week and be welcomed. Signing up is not necessary, though the leaders will appreciate the opportunity to connect with you ahead of time if you fill out the form below.