Sunday Programs
Sunday School: Bridges to Worship
PreK  & K
Kids begin in worship with their families. After the Children's Message they go upstairs for the opportunity to worship and experience the scriptures through hands – on play.
Sunday School: WonderFilled
1st – 6th grade
Kids begin in worship with their families. After the Children's Message they go upstairs to discover their identity in God's big story and be filled with God's wonder. Students in grades 4-6 are encouraged to remain in worship on the 1st Sundays of the month.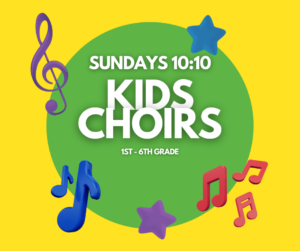 Kids Choirs
Joyful Noise choir is for 1st – 3rd graders.
Junior Choir is for 4th – 6th graders.
Do you love to sing, make music, or act? Join the kids choirs as they bring stories and truths from the Bible to life. Choirs practice at 10:10, perform two musicals a year, and sing in worship. Join anytime!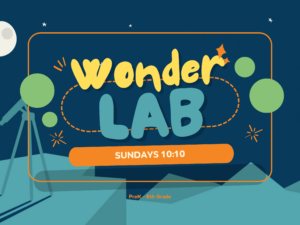 Wonder Lab
Kids in Pre-K through 6th grade will learn more about God, His creation, and His story. Wonder Lab is place of curiosity and imagination that invites God to meet us in our questions and our awe. Kids explore God's big story through hands on experiences include crafts, games, and experiments.
CLUB 456
4th -6th grade
CLUB is where kids in 4th – 6th grade come together on the first Sunday of every month to share a meal, play games, and explore what it means to be kids who love Jesus.
CLUB is part of First Sundays where 4th – 6th graders, 7th – 12th graders, and their parents gather for a meal before CLUB, Youth Group, and Been There, Done That for parents of preteens and teens.
Dear Parents,
Do you have a child who is participating in one of our programs using the Wonder Ink curriculum? Kids in Childcare, WonderFilled (1st – 6th), and Wonder Lab (preK – 6th) learn about God's big story through curiosity and wonder with Wonder Ink.
But the fun doesn't have to end on Sundays! Sign up for the parent portal where you can engage with the stories and do activities at home with your kids.
Sign Up Here
Wonder @ Home
Events
Music and Drama Camp
June 26 – 30, 9am – 3pm, Rising 4th – 9th grade
Register by May 31st
Parent Information
MEDIA OPT OUT
Would you rather that your child not be in any photos, videos, or used in any media for the church? Please fill out the Media Opt Out Form.
For More Information
Contact our Children's Ministry Director, Maddie Schmidt or call 703.938.9050, x117
Get In Touch
Have questions about VPC Kids?  We'd love to help…